Manchester United - Liverpool: Dead-ball free kick of a lateral foul puts Red Devils ahead
Manchester United - Liverpool: Dead-ball free kick of a lateral foul puts Red Devils ahead
We analyze the details of the dead-ball play that allowed Manchester United to score against Liverpool 5 minutes after the second half started
The direct free kick was taken from a very particular position, it was very dangerous for defenders, right on the short side of the penalty area, at the same distance as the penalty spot; in this situation defenders must make a defensive line inside the goal area, giving rivals the chance to place themselves inside the penalty area.
Manchester United took this free kick with 8 players: 2 of them next to the ball (a right-handed and a left-handed player), a player in an offside position right behind the defensive line, 4  players ready to run towards the goal and the last one outside the area, as it is shown in the next picture.
Liverpool defends in the area using 9 players and using the last one that has to be ready for the counter attack.
Taking into account where players from Liverpool are placed we can tell that even if they were defending the goal, they still could not get to occupy all of the spaces from the area and above all, those spaces that were outside the area, leaving opponents completely unmarked.
Manchester United was well covered during the defensive phase with a 2vs1 over the only reference of Liverpool.
The zone outside the area is not covered and players from Liverpool can focus themselves on the ball.
When the free kick is taken, Manchester United perfectly executes a rehearsed move; the first player passes over the ball and sends the signal to those players that are inside the penalty area, then they run towards the area and liberate the space that is right behind them, with the race line towards opponents in order to block their possible move.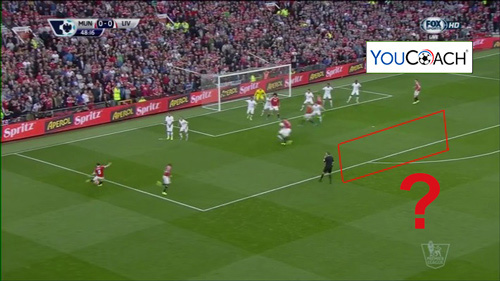 Right when the second player touches the ball the zone from outside the area is completely empty. Players from Liverpool are focused on the ball and they get clearly late to defend that zone.
The attacking movements of the player from Manchester United are just perfect; actually they was already running while the ball was going towards him.
When the ball gets hit defenders from Liverpool are late and cannot reach it.
When the player from Manchester United hits the ball, they is in the middle of the area with the goal right in front of him and the chance to choose the direction towards which they wanted to shoot.
The execution of the move is simply perfect. The player was running towards the ball and was able to use the inside of the foot to shoot, which resulted in a powerful and well targeted shot.